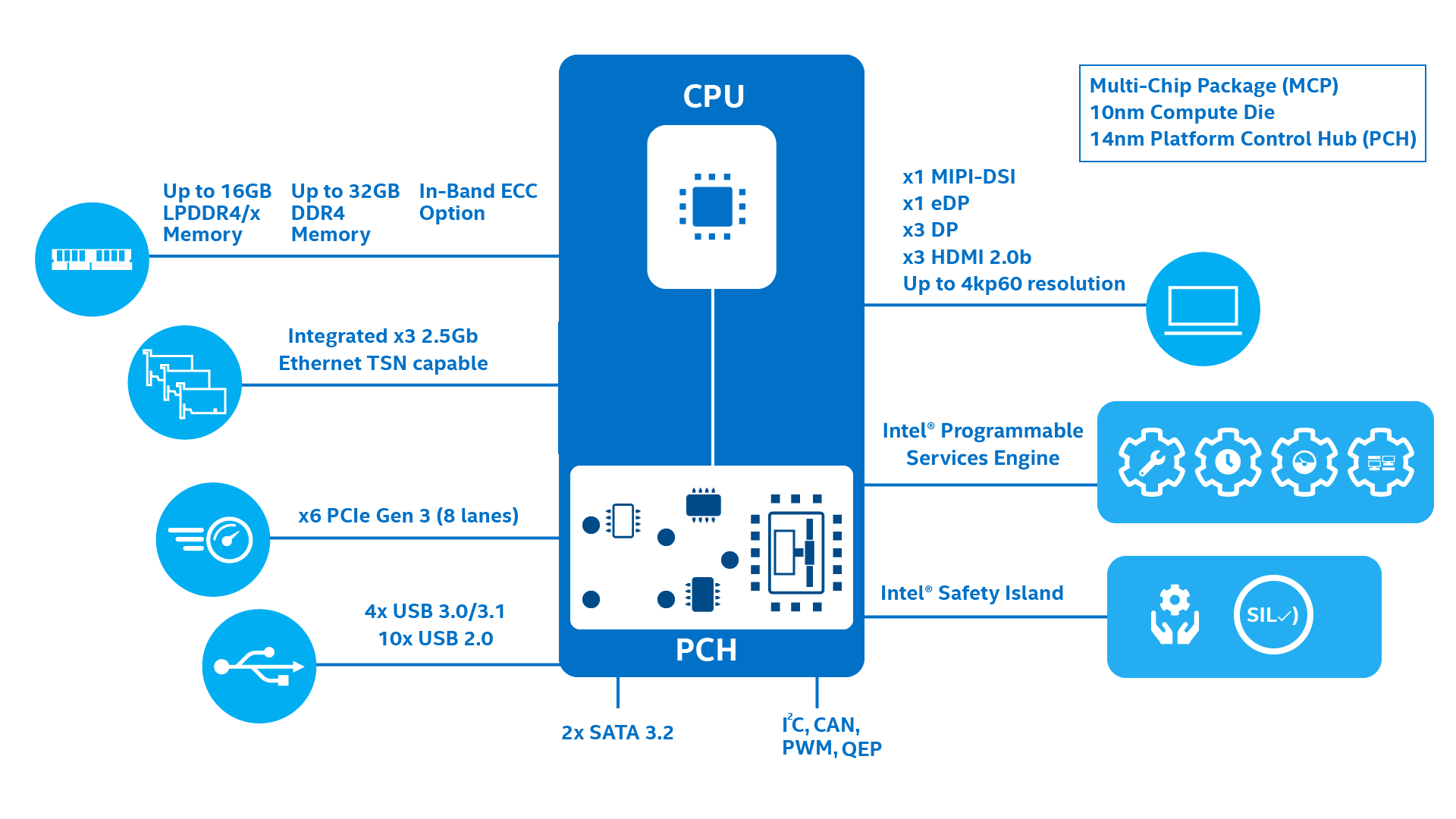 Intel Atom® x6000E Series, and Intel® Pentium® and Celeron® N and J Series Processors for Internet of Things (IoT) Applications

To support the next generation of IoT edge devices, Intel has developed a new line of processors enhanced for IoT—The Intel Atom® x6000E Series, Intel® Pentium® and Intel® Celeron® N and J Series processors. These processors build on new levels of CPU and graphics performance with integrated IoT features, real-time performance, manageability, security, and functional safety.

Key Features

Performance
Up to a 1.7x improvement in single-thread performance and up to a 1.5x improvement in multi-thread performance generation over generation. Up to 2x performance improvement in graphics over previous generation.

Next-Generation Graphics
Take a huge leap forward in graphics capabilities with Intel® UHD Graphics. With the ability to drive a maximum resolution of 4kp60 on up to three simultaneous displays, it is a first for this family of processors.

Integration and Flexibility
Leverage a dedicated offload engine with the Intel® Programmable Services Engine (Intel® PSE). Powered by an Arm* Cortex-M7 microcontroller, it provides independent, low-DMIPs computing and low-speed I/Os for IoT applications. It also hosts new functions like remote, out-of-band device management, network proxy, embedded controller, and sensor hub.

Remote Device Management
Monitor and manage devices using in-band capability through Wi-Fi or wired ethernet to perform remote firmware and software updates. When OS is unresponsive, use out-of-band manageability through wired ethernet.

Meet Functional Safety Requirements: The Intel® Safety Island
With functional safety capabilities integrated into the silicon, the Intel Atom® x6000FE Series industrial processors meet IEC 61508 and ISO 13849 requirements (SIL2/Cat.3 PL d certified, SIL3/Cat.4 PL e capable)2 for functional safety.

Integrated Connectivity
Easily provide high speed connectivity with three integrated 2.5GbE MAC's all with time sensitive networking (TSN) capability.