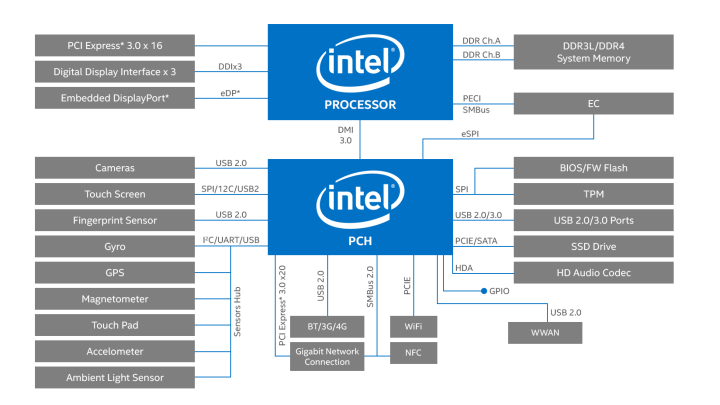 ☞ Ultimate Performance for Mainstream and Premium Notebooks

For the ultimate performance in mainstream and premium notebooks, the H-series 6th generation Intel® Core™ i3/i5/i7 processors support up to four cores and eight threads, delivering the power that enthusiasts, gamers, and content creators demand. With the newly expanded 6th generation Intel® Core™ processor H-series, Intel introduced its first mobile "K" processor with enhanced overclocking and its first quad-core Core i5 processor.


☞ 6th Generation Intel® Core™ Mobile Processor Family with Intel® 100 Series Chipsets and Intel® Xeon® Processor E3-1500 v5 Product Family with Intel® CM230 Series Chipsets

Formerly Skylake H-Series (Mobile)

The 6th generation Intel® Core™ processor family is manufactured on Intel's latest 14 nm technology. Paired with an Intel® CM230 or 100 series chipset, these processors offer dramatically higher CPU and graphics performance compared to the previous generation. They provide a broad range of power options and new advanced features that boost edge-to-cloud performance for Internet of Things (IoT) designs.

The 6th generation Intel Core processor family maintains a standardized thermal envelope for 45W (cTDP 35W), 35W, and 25W remaining consistent with the previous processor generation. The new generation is ideal for a wide range of IoT applications, including retail transaction terminals, digital signage, military and aerospace systems, casino gaming, and industrial automation.

The Intel® Xeon® processor family is introducing ball grid array (BGA) parts for mobile workstation computing needs. The BGA parts are 45W (35W cTDP) and 25W. The Intel Xeon processor E3-1200 v5 product family offers numerous advancements over the previous generation making them ideal for a wide range of IoT applications, including industrial control and automation equipment, retail devices, and military, aerospace, and government systems.