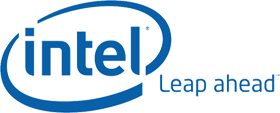 Intel Corporation is an American global technology company and the world's largest semiconductor chip maker. It is the inventor of the x86 series of microprocessors, the processors found in most personal computers. Intel also makes motherboard chipsets, network interface controllers and integrated circuits, flash memory, graphic chips, embedded processors and other devices related to communications and computing.
Intel was an early developer of SRAM and DRAM memory chips, and this represented the majority of its business until 1981. While Intel created the first commercial microprocessor chip in 1971, it was not until the success of the personal computer (PC) that this became their primary business. During the 1990s, Intel invested heavily in new microprocessor designs fostering the rapid growth of the computer industry. During this period Intel became the dominant supplier of microprocessors for PCs, and was known for aggressive and sometimes controversial tactics in defense of its market position, particularly against AMD, as well as a struggle with Microsoft for control over the direction of the PC industry. The 2010 rankings of the world's 100 most powerful brands published by Millward Brown Optimor showed the company's brand value at number 48.
Additional company and product information is available at www.intel.com.





American Megatrends Inc. (AMI) creates and manufactures key hardware and software solutions for the global computer marketplace, providing the highest quality and compatibility necessary to build today's advanced computing systems. AMI's mission is to design state-of-the-art computer solutions and develop advanced technology for the best computing solutions in the world. Today, AMI is the world's largest BIOS firmware vendor, with AMIBIOS® deployed in more than 65% of all computers worldwide.
Additional company and product information is available at www.ami.com.





ITE Tech. Inc. (abbreviated as ITE ) is a professional fabless IC design house. ITE started from the development of PC and NB Controller chips in the early years and takes the global lead in Super I/O as well as Keyboard and Embedded Controller technology. The market share of the Super I/O products, adopted by many well-known PC manufactures, has been over 40 percent worldwide. Following steady growth, ITE gradually expands in the product line and technology field. Currently there are many excellent engineers with specialty in software/hardware development on PC/NB Controller, Flash Controller, Digital TV Receiver Controller, Multimedia Controller, and Analog IC as well as marketing talents.
Additional company and product information is available at www.ite.com.tw.




전기용 기계장비 및 관련 기자재 도매업체로 1993년 11월 한국유니퀘스트로 설립되어 1995년 법인으로 전환되었으며, 2003년 현재의 상호로 변경되었다. 주요 사업은 반도체와 전기, 전자 부품의 제조 및 판매, 수출입이다.
1995년 11월 한국유니퀘스트(주)로 법인전환을 하였으며, 1999년 한국전자통신연구소(ETRI)의 초고속 통신망 공동개발 프로젝트에 참여하였다. 2000년 한국산업기술진흥협회로부터 기업부설연구소 인정을 받았으며, 초고속인터넷 접속장비 SDSL(대칭 디지털 가입자 회선) 모듈을 개발하고 그 판매를 위하여 (주)유니존테크놀로지로 분사시켰다. 2001년 10월 미국과 홍콩에 지사를 설립하였고, 2003년 10월 현재의 상호로 변경하였다. 2004년 8월 증권거래소에 주식을 상장하였고, 2005년 (주)이트론코퍼레이션과 (주)퀘스트랩스를 계열사로 편입하였다.
회사 및 제품에 관한 보다 많은 정보는 www.uniquest.co.kr 에서 확인 가능하다